Dr. Strangelove: "Mr. President, it is not only possible, it is essential. That is the whole idea of this machine, you know. Deterrence is the art of producing in the mind of the enemy... the fear to attack. And so, because of the automated and irrevocable decision making process which rules out human meddling, the doomsday machine is terrifying. It's simple to understand. And completely credible, and convincing."

Dr. Strangelove "Yes, but the... whole point of the doomsday machine... is lost... if you keep it a secret! Why didn't you tell the world, eh?"

Dr. Strangelove: "It would not be difficult mein Fuhrer! Nuclear reactors could, heh... I'm sorry. Mr. President. Nuclear reactors could provide power almost indefinitely. Greenhouses could maintain plantlife. Animals could be bred and slaughtered. A quick survey would have to be made of all the available mine sites in the country. But I would guess... that ah, dwelling space for several hundred thousands of our people could easily be provided."

General Jack D. Ripper: "Fluoridation is the most monstrously conceived and dangerous plot we have ever had to face."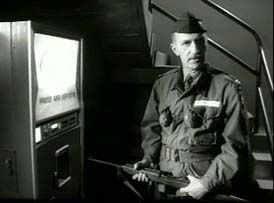 Colonel Bat Guano: "If you don't get the President of the United States on that phone, do you know what's gonna happen to you?...You're gonna have to answer to the Coca-Cola Company."

President Merkin Muffley: "You know how we've always talked about the possibility of something going wrong with the bomb. The bomb, Dimitri. The hydrogen bomb. Well now what happened is, one of our base commanders, he had a sort of, well he went a little funny in the head. You know. Just a little... funny. And uh, he went and did a silly thing. Well, I'll tell you what he did, he ordered his planes... to attack your country. Well let me finish, Dimitri. Let me finish, Dimitri. Well, listen, how do you think I feel about it? Can you imagine how I feel about it, Dimitri? Why do you think I'm calling you? Just to say hello? Of course I like to speak to you. Of course I like to say hello. Not now, but any time, Dimitri. I'm just calling up to tell you something terrible has happened. It's a friendly call. Of course it's a friendly call. Listen, if it wasn't friendly, ... you probably wouldn't have even got it."

Bombs: "Dear John" & "Hi There"

General Jack D. Ripper : "Yes a profound sense of fatigue, a feeling of emptiness followed. Luckily I was able to interpret these feelings correctly: loss of essence. "
"I can assure you it has not recurred, Mandrake. Women... women sense my power, and they seek the life essence. I do not avoid women, Mandrake, but I do deny them my essence. "

Major T.J. King Kong: "three lipsticks, three pair of nylon stockings -- shoot, a fellah could have a pretty good weekend in Vegas with all that stuff...."

Miss Scott: "Buck, honey... I'm not sleepy either. "
General Buck Turgidson: "I know how it is, baby. Tell you what you do. You just start your countdown, and old Bucky'll be back here before you can say... Blast Off!"

Ambassador DeSadeski: "You would never have found him through his office, Mr. President. Our Premier is a man of the people, but he is also... a man, if you follow my meaning."

General Buck Turgidson: "Doctor, you mentioned the ration of ten women to each man. Now, wouldn't that necessitate the abandonment of the so called monogamous sexual relationship, I mean, as far as men were concerned?"
Dr. Strangelove: "Regrettably, yes. But it is, you know, a sacrifice required for the future of the human race. I hasten to add that since each man will be required to do prodigious... service along these lines, the women will have to be selected for their sexual characteristics which will have to be of a highly stimulating nature."
Ambassador DeSadeski: "I must confess, you have an astonishingly good idea there, Doctor."
Strangelove: "Thank you, sir."